Tank    Fire      <![if !vml]>
<![endif]>    
Shell Oil Company, Sewaren Plant
June 11-12, 1996.
---
---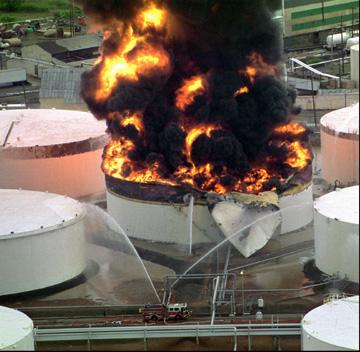 ---
---
---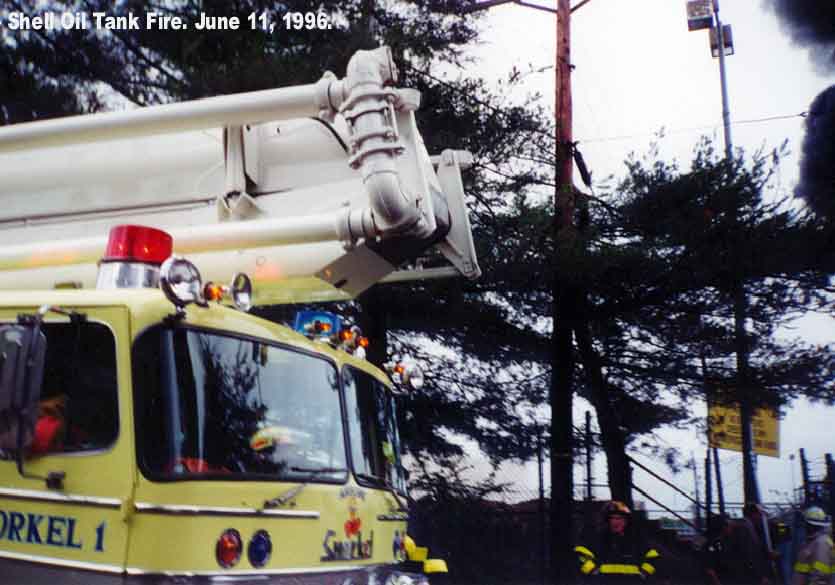 ---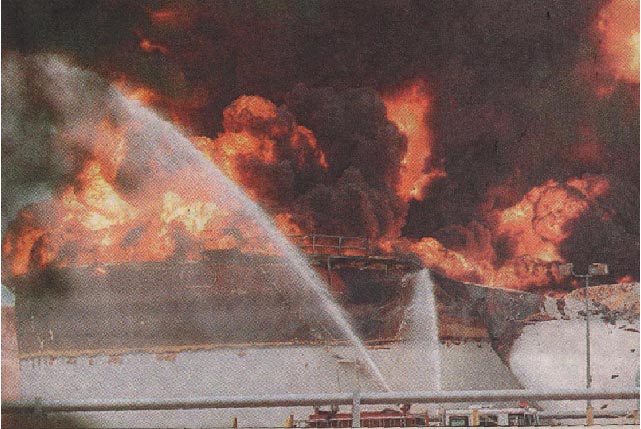 ---
---
---
---
---
---
---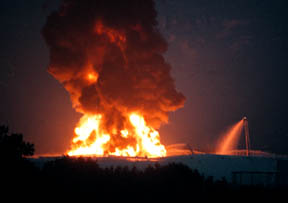 ---
---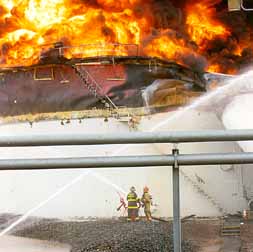 ---
---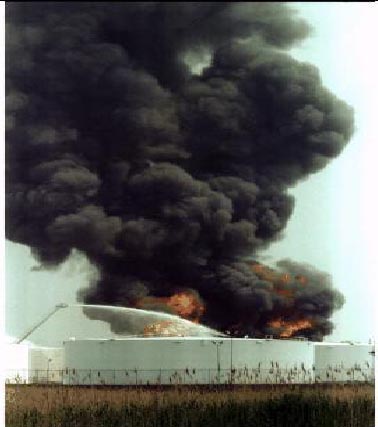 ---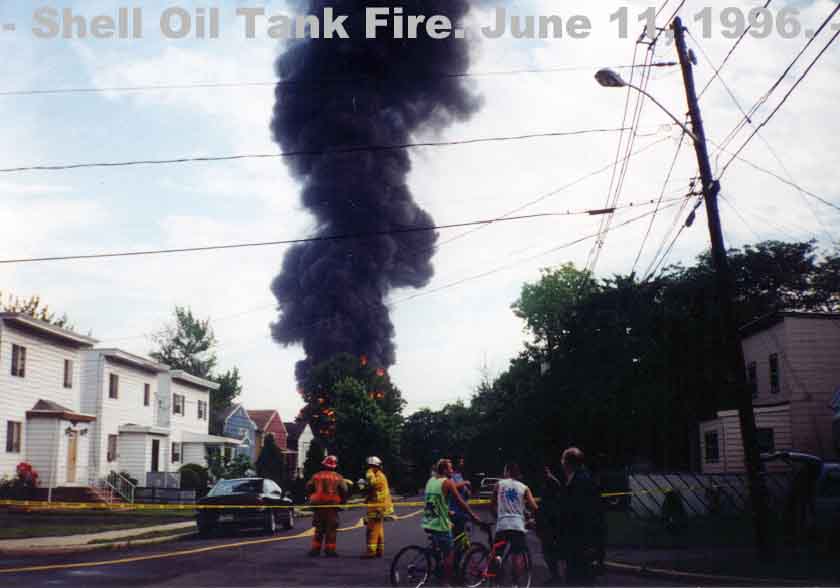 ---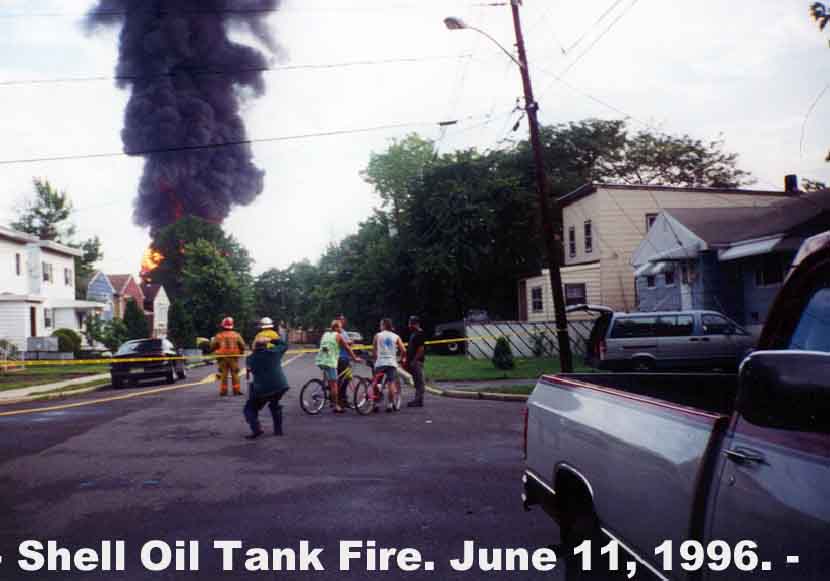 ---

---

---

---

---

---

---

---

---

---

---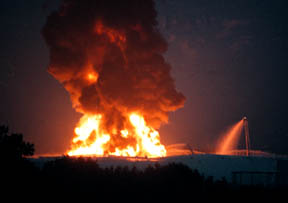 ---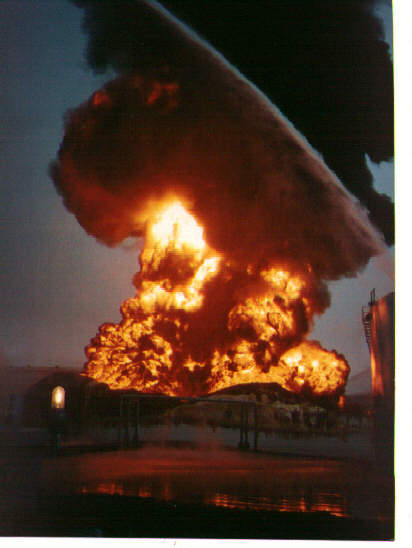 ---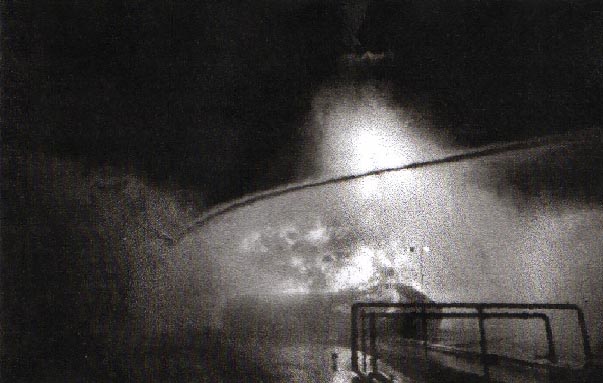 ---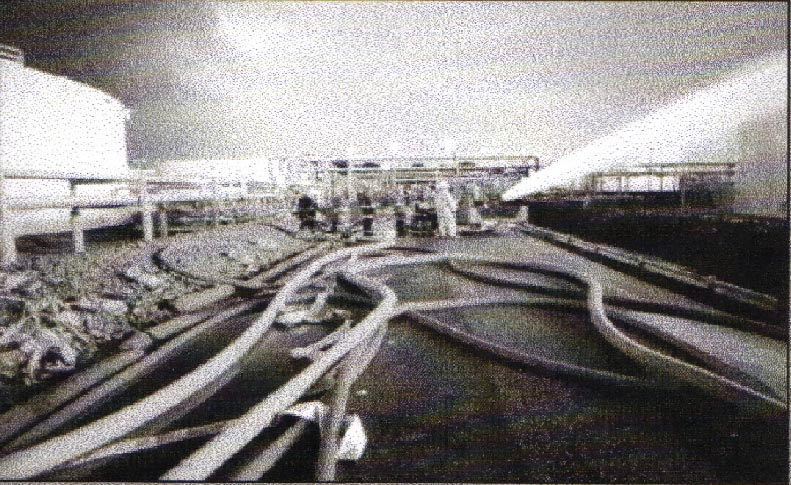 ---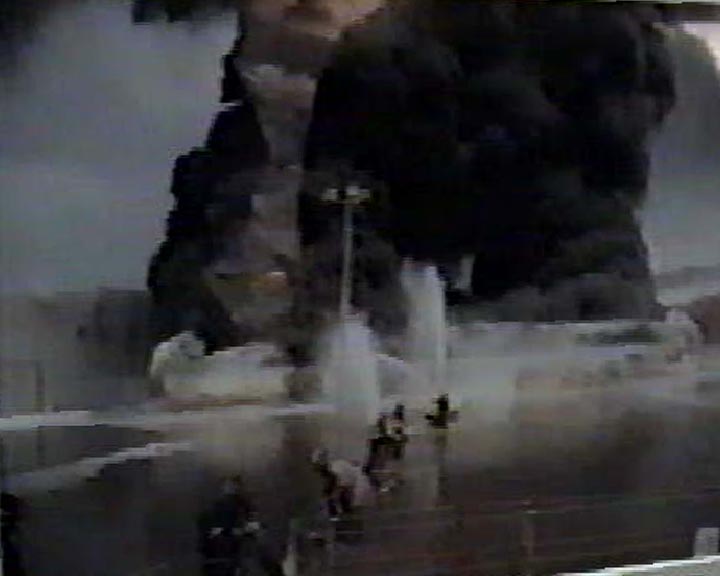 - From CP Chemical Co. -
---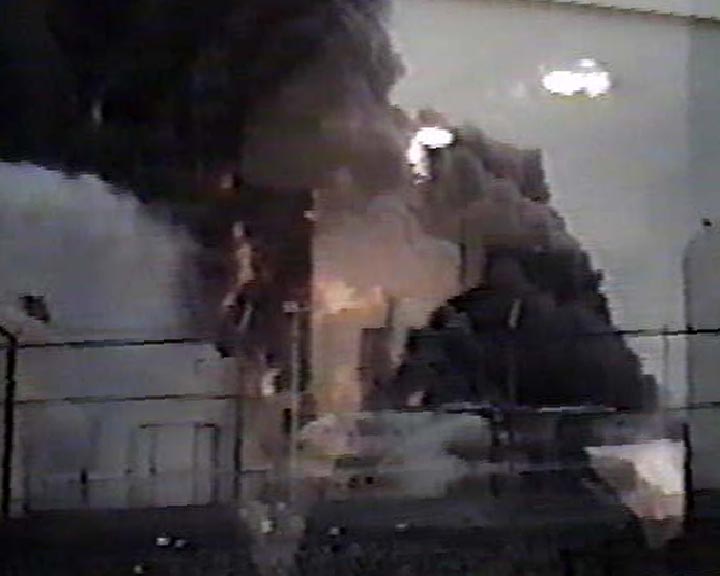 - From CP Chemical Co. -
---
---
On June 11, 1996 - At Approximately 3:30 p.m. A Line Of Severe Thunderstorms Moved Through The Central New Jerey Area, Specifically Woodbridge Township.
The Storm Dumped Over An Inch Of Rain And Produced Violent Lightning And Thunder.
10 Minutes Later, A Direct Bolt Of Lightning Hit Tank # 139 Which Was Filled With 4 Million Gallons Of Gasoline In The Shell Oil Tank Farm Off Of Arbor Street. The Lightning Caused An Explosion On The Roof Of The Tank Where Gasoline Vapors Had Collected. This Explosion Caused The Gasoline Filled Tank To Catch Fire.
As Soon As The Storm Had Stopped, Woodbridge Police Were Dispatched To Shell On A Report Of "A Tank Getting Hit By Lightning." First On Scene Was Volunteer Firefighter Ray Deliman Of Sewaren Who Recieved Special Training To Fight Petrochemical Fires.
Within Few Minutes, A Giant Flame Lit The Sky And A Large Plume Of Smoke Was Seen From Miles Away.
Emergency Crews From Woodbridge Township And Surrounding Towns Literally Took Over Sewaren As They Raced To The Scene. The Command Post Headed By Woodbridge Fire Chief Norman Leahy Was Set Up At Moby Dick's Bar & Restaurant On West Avenue. West Avenue Was Closed At Woodbridge Avenue And At The Perth Amboy Border. Fire Apparatus (engines and ladder trucks) Were Staged On West Avenue. The Sewaren Corner Deli Was Set Up And A Command Post For EMS.
Fearing That The Tank Fire May Spread To Nearby Tanks, Or Even The Posibility Of Pieces Of The Tank To Land On Nearby Homes, Woodbridge Auxilary Police Went Door To Door Evacuating Residents.
Areas Evacuated Were - Sewaren Avenue, Arbor Street, Dunlop Drive, South Robert Street, Vale Place, West Avenue Up To Woodbridge Avenue. Elf Road, East New Street, Ferry Street, Holton Street, Broad Street, East Avenue And Cliff Road. A Total Of Over 200 People And Pets. Shell Oil Paid To Put Families Up At The Holiday Inn Hotel In Edison. Also, Shelters Were Set Up At Woodbridge High School And Avenel Middle School.
Traffic In Sewaren Was Bumper To Bumper As People Were Coming Into Town To Get A Close View Of The Massive Fire As Sewaren Residents Were Fleeing The Blaze. Also, Emergency Personnel And The Press Were Coming In.
The Fire Was Fought All Night By Firefighters, But The Question Remained What Method Of Attack Was To Be Used On The Tank. The Tank Was Full And Was In The Center Of 4 Other Tanks In A Farm Of A Few Dozen. It Was Decided That Firefighters Would Cool Down The 4 Other Tanks By Wetting Them. Another Problem Came Up Whether The 4 Neighboring Tanks Should Be Drained. Carteret Mayor Peter Sica Advised Woodbridge Mayor Jim Mcgreevey To Keep The Contents In The Tank Because Once Drained There Would Be Explosive Vapors.
Hazardous Materials Technicians From Middlesex County HazMat Were Concerned Over The Fact That Other Tanks Were Close By, And CP Chemical Company Stored Chemicals On Railroad Tracks In The Area.
All Night Long, Scores Of Fire Trucks And Ambulances Were Racing Into Town. All Roads Into Sewaren Were Blocked Off. Helicopters Were Flying Overhead All Night Long.
The Next Day Thursday, The 4 Surrounding Tanks Were Begining To Get Effected From The Enormous Heat. However, Firefighters Contained The Inferno To Tank 139.
At The Same Time, The Red Cross And The Salvation Army Were Mobilized And Set Up At St. John's Church On Woodbridge Avenue.
All Officials Held Meetings Every So Often To Determine What To Do. The 2 Options Were To Either Let The Fire Burn Out, Or Put The Fire Out. Everyone Agreed That Special Foam Would Be Best To Extinguish The Fire.
A Fire This Large Required An Extensive Water Supply. At First, Large Diameter Hose Line Was Ran Along Side The Shell Access Road Off Of Arbor Street To Hydrants. A Pumper Plugged The Hydrant On Dunlop And Sewaren Avenue. Pumpers Were Tied To Hydrants Throughout The Broad Street - East Avenue - Holton Street Area. A 5" High Pressure Supply Line Was From This Network And Ran From Elf Road And Crossed Over The Conrail Tracks Under The Bridge. The Line Entered The Shell Property Where It Was Used By Fire Equipment. Another Supply Came From A New York City Fire Department Bay Which Was Stationed On Woodbridge River. The Boat Was Used As A Pumper To Pump Water From The River And Hosed To The Fire Units. The Main Supply Came From Pumpers Situated At The Township Boat Launch At The Mouth Of The Arthur Kill. The Line Ran Up Ferry Street To A Hopelawn Engine To Serve As A Relay. From The Hopelawn Engine, The Charged Line Crossed Over West Avenue At The Base Of The Bridge Near Moby Dick's.
Fire Engines At The Scene Were In Master Stream And Deck Gun Operation, While Ladder Trucks Were Extended To Spray The Fire And Cool Down The Other Tanks. Also, Around The Dyke Of Each Tank Are Pumps Which Were Used.
There Were A Few Obstacles That Got Into The Firefighters Way. First, On Wednesday Night A 5 Inch Water Supply Line That Was Stretched Across West Avenue At The Base Of The Bridge Was Ran Over By A Vehicle. This Line Was One Of The Main Pre-Connects To The Operating Units. Operations Were Delayed As Workers Replaced The Damaged Hose And Made An Asphalt Ramp.On Top Of That, Temperatures Were Close To 90 Degrees. The Heat Coming From The Tank Was Also Unbearable.
The Decision To Use Foam Came In The Morning. The Second Factor That Hampered Firefighters Efforts Was Another Line Of Severe Thunderstorms That Were Moving Into The Area.
New Jersey Governer Christie Whitman Came To Sewaren To Take A Look At The Situation And Declared A State Of Emergency.
Teams Of Firefighters Were Rotated Every 10 Minutes Due To The Irradiating Heat. The First 3 Attempts Of The Foam Were Unsuccesful, But The 4th Shot At 6:00 P.M. Thursday Was Able To Bring The Fire Under Control. The Tank Fire Was Not Completely Extinguished Until 8:00 P.M. At 8:30, Those Evacuated Were Allowed Back Into Their Homes. Even Though The Fire Was Extinguished, There Remained A Large Amount Of Overhaul.
As All Fire Apparatus Was Breaking Down Their Equipment In Overhaul Stage All 200 Evacuees Were In There Houses. In A Matter Of Hours, Most Of The Roads In Sewaren Were Open. The State Of Emergency Was Lifted But A Warning Was Issued For Drinking Water.
At Around 11:45 P.M. Chief Leahy Terminated Fire Command, But Fire Units And Middlesex County Hazmat Remained On Location For The Next Days. It Took The Out Of Town Mutual Aid Companies In Operation Another Day To Wrap Up. Perth Amboy Fire And Edison Fire Stood By In Woodbridge Fire Headquarters As Woodbridge Fire Was Still On Scene.
Within A Few Days, Everything Turned Back To Normal. All Residents Were In Their Homes, The Fire Units Were Cleared, Streets Were Re-Opened, Businesses Returned, The Smoke Wasn't Plumming, And The Fire Was Extinguished.
After All Was Said An Done The Fire Lasted For 28 Hours, 200 People Were Evacuated, Over 8 Dozen Fire Companies Thoughout New Jersey Including Industrial Departments Assisted.
Shell Oil Paid For Power Washing Houses, Cars, Boats, ETC, That Were Spotted Black From Soot.
At The End, Sewaren Just Lived On. During The Fire, Everyone In Sewaren Showed That We Are Prepared For Anything, Even This Big. More Importantlly, We Showed How Close Of A Community That We Are. Sewaren Residents Proved How Strong That We Are. Even Today, We Still Remember The Shell Fire Like It Was Yesterday, But We All Pulled Together To Keep Our Close Town.
---
---
---
---
---